T he online gambling industry is currently undergoing rapid growth, with industry experts projecting a substantial expansion over the next 5-8 years. HraiGamble Group has examined key survey data to gain insights into the driving forces behind this growth.
Exploring the Driving Forces: Analyzing the Reasons for Market Changes
Sergey Desyatnik, CEO of HraiGamble Group, believes that the primary primary catalyst for the market growth is the legalization of online gambling in various countries. This regulatory shift has led to the emergence of numerous start-ups and global players, who have expanded their reach, employed celebrity endorsements, and secured corporate sponsorships.
Furthermore, the proliferation of technology, including AI, has contributed significantly to the growth of online gambling. Technological advancements have made online gambling easily accessible using mobile devices, with approximately 80% of industry users accessing gambling services via their smartphones. This convenience and simplicity have attracted a large user base.
Moreover, please, bear in mind that the sudden outbreak of the COVID-19 pandemic and subsequent government-imposed quarantine restrictions have a great impact on the online gambling industry.  As people turned to online platforms for entertainment during lockdowns, the demand for gambling sites and online casinos skyrocketed.
The most favored forms of online gambling include poker, casinos, sports betting, and lotteries. Online sports betting, in particular, has experienced significant expansion due to technological innovations that offer diverse options and allow individuals to bet on sports they are interested in. The availability of various sports, including both traditional and modern cyber sports like Formula 1, has contributed to the popularity of online sports betting.
What can we gather from the available data?
The available data provide a positive outlook for the online gambling market. 
As per the "Online Gambling Market: Global Industry Trends, Share, Size, Growth, Opportunity, and Forecast 2023-2028" report by IMARC Group, the market size of global online gambling reached $79.8 billion in 2022. 
IMARC Group further predicts that the market value will reach $133.9 billion by 2028, with an average annual growth rate of 8.5% in 2023-2028. 
Similarly, according to another research company Research and Markets,  the global online gambling market size was estimated to be $72.33 billion in 2022 and is projected to reach $79.99 billion in 2023. The market is expected to continue its growth trajectory and will reach $162.69 billion by 2030, with a Compound Annual Growth Rate (CAGR) of 10.66%.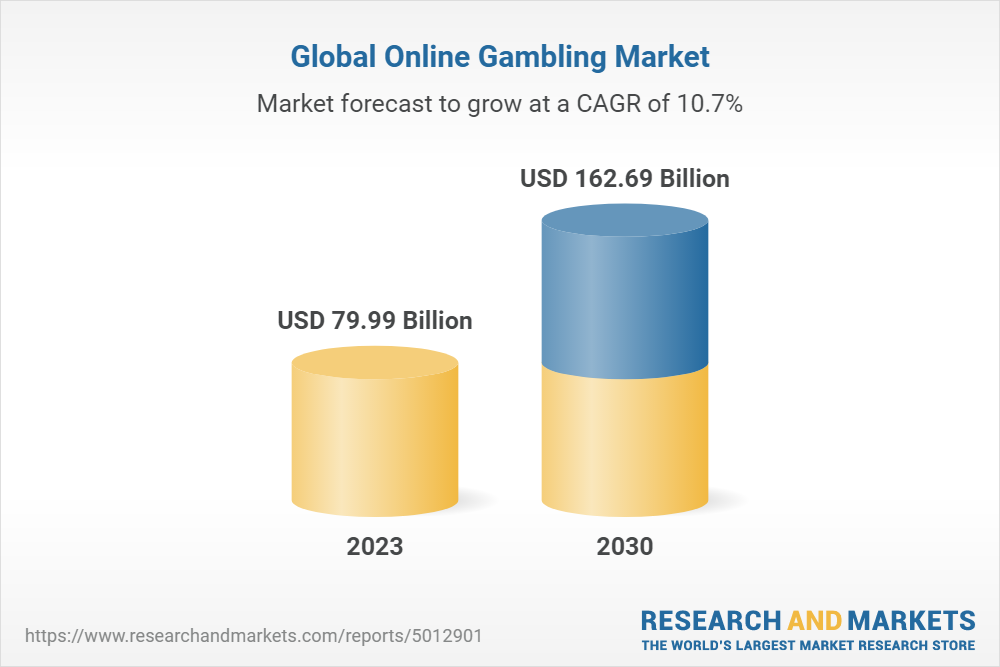 Researchandmarkets.com suggests that factors including the impact of COVID-19, the Russian-Ukrainian military conflict, and high inflation will have a significant long-term effect on the global online gambling market. The research examines changes in consumer behavior and government interventions caused by the pandemic, as well as the ongoing political and economic uncertainty in Eastern Europe resulting from the war between Russia and Ukraine. These factors could influence demand, supply, money flows, and currency exchange in the online gambling industry.
Regarding Europe, the European Gaming & Betting Association report "European Online Gambling – Key Figures 2022" reveals a steady growth in online gambling revenues, with €38.2 billion GGR in 2022, representing an 8% increase as compared with the pandemic-impacted year of 2021.
Casino games emerged as the most popular online gambling product in Europe, contributing €14.9 billion in gross gaming revenue (GGR) and accounting for 39% of the region online gambling revenue in 2022. Sports betting and other types of betting closely followed, generating €13.6 billion in GGR and accounting for 35% of the total online gambling revenue in Europe.  Comparatively, EGBA members generate the biggest share (46%) of their online revenues from sports betting.
Despite significant regulatory barriers faced by the online gambling market in Europe over the past couple of years, EGBA predicts considerable growth and anticipates some regulatory stability in the upcoming years.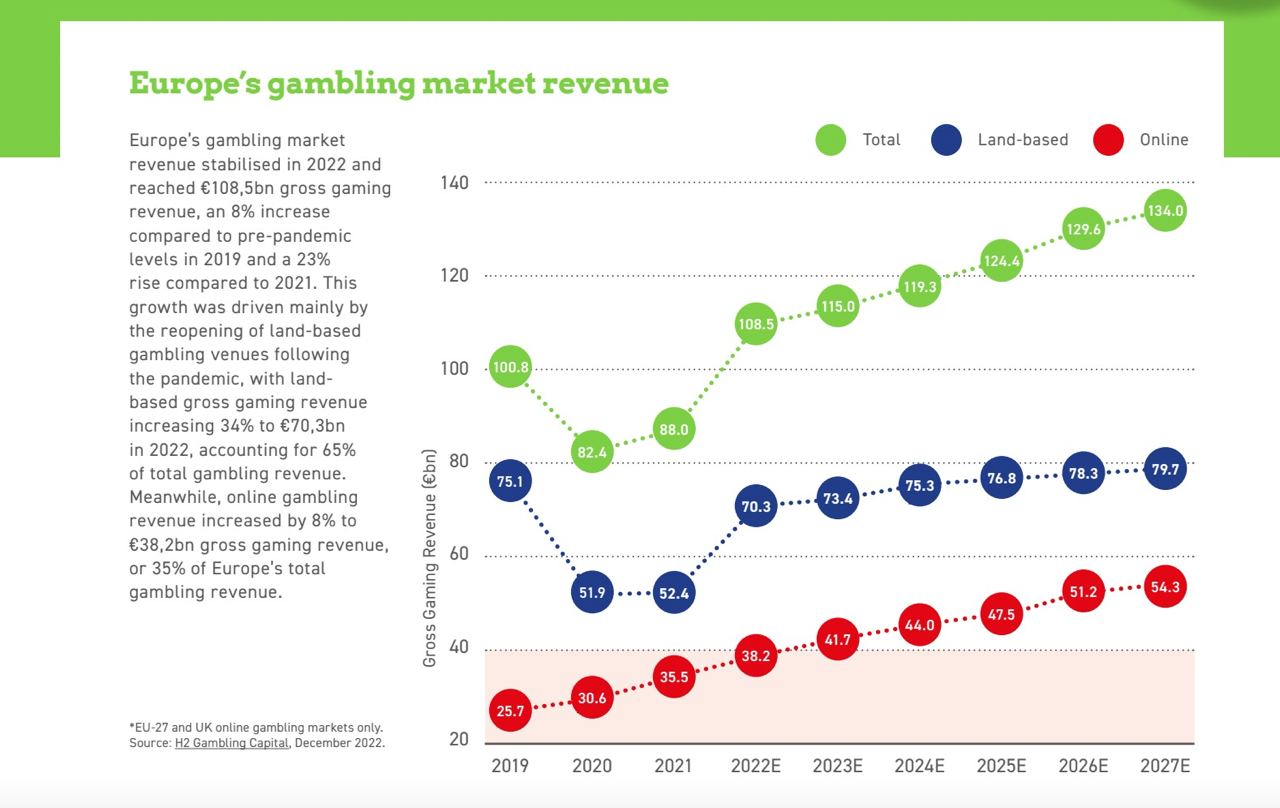 "The biggest challenge the industry will face this year is being able to respond maturely to the expected continued pressure of increasing regulation. Instead of pointing fingers and expressing anger towards the external world, it is crucial for the industry to approach this issue with maturity. Recognizing and acknowledging the existence of this pressure, it becomes necessary to understand why more rules are being implemented and take greater responsibility for our own actions. This responsibility entails a commitment from the highest levels of leadership within gambling operators.





EGBA members are at the forefront of promoting a responsible online gambling sector, yet there is a need for a stronger culture of industry responsibility and cooperation across the entire gambling sector in Europe. I'm hopeful because progress has been observed in recent years. However, far too many operators still sit on the periphery of the sector, displaying little concern about their position in wider society and failing to contribute to the sector representation. Their attitude not only harms their own interests but also continues to bring the rest of the sector down with them." 

Maarten Haijer, Secretary General of EGBA, shares his hopes for Europe's online gambling sector in 2023.

 
The countries covered by the online gambling market include Australia, Brazil, China, France, Germany, India, Indonesia, Japan, South Korea, the UK, and the US. Europe has the largest concentration of online gambling and is expected to remain dominant over the coming years.  
HraiGamble Group is a leading marketing company specialized in unbiased reviews and extensive research on online gambling in Europe, Japan, Australia, and the USA.
Founded in 2017, the brands of the Group are offered in 11 international markets. While far more than 400 casino and slot machine operators have forged partnerships with the Group.
HraiGamble Group products are independent and self-supported information resources, where you can find detailed reviews of online casinos, as well as the most renown HraiGamble Group products include unbiased and in-house information resources, generating all-round reviews dedicated to online casinos and the best slot machines.
IMARC Group is a leading market research company that offers management strategy and market research worldwide. 
IMARC information products include major market, scientific, economic, and technological developments for business leaders in pharmaceutical, industrial, and high-technology organizations. Market forecasts and industry analysis for biotechnology, advanced materials, pharmaceuticals, food and beverage, travel and tourism, nanotechnology and novel processing methods are at the top of the company expertise.
About Research and Markets
Research and Markets was founded in 2002 with one simple aim; to connect businesses with the market insights and analysis they need to enable intelligent decision-making. Since then we have grown into the world's largest market research store with clients all over the world, including 450+ of the Fortune 500 Clients, choosing to buy their research from us.
The European Gaming and Betting Association (EGBA) is the Brussels-based trade association representing the leading online gambling operators established, licensed, and regulated within the EU, including bet365, Betsson Group, Entain, Flutter, Kindred Group, and William Hill. EGBA works together with national and EU authorities and other stakeholders towards a well-regulated and well-channeled online gambling market which provides a high level of consumer protection and takes account of the realities of the internet and online consumer demand. EGBA member companies meet the highest regulatory standards and, in 2021, had 225 online gambling licenses to provide their services to 29,8 million customers across 21 different European countries. Currently, EGBA members a