sark
the German government has recently published the results of a study dedicated to gambling. It is expected to provoke a new wave of initiatives to restrict advertising in various formats, as well as some other initiatives that promote gambling.
Glücksspielatlas Deutschland 2023 contains data from the current publications by experts from the Institute for Interdisciplinary Addiction and Drug Research (ISD Hamburg) and the Department of Gambling Research at the University of Bremen. The German Centre for Addiction Problems (DHS) is also listed as a co-publisher.
According to the said report, in 2022, Germany received 5.2 billion in taxes from gambling operators, and approximately 1.3 million adults suffer from a gambling disorder.
When presenting the report in Berlin, Burkhard Blinert, the Commissioner for Addictions and Drugs, stressed that the situation is really serious and called for a ban on TV gambling advertising before 23:00. Blinert hopes that the data and facts published in Glücksspielatlas Deutschland 2023 provide a good basis for discussing the right way to combat gambling and its consequences.
It is well known that gambling offers attract quick and sometimes big money wins. But hardly anyone knows how high the risk of addiction really is – from the first game onwards – even in politics.

Burkhard Blinert
The marketing company HraiGamble Group engaged experts from Casinospot.de, who provide unbiased reviews of the gambling market and carefully analyzed 169 pages of Glücksspielatlas Deutschland 2023.  Their thorough examination provided valuable insights into behaviors of gamblers, external factors that influence their decision-making, industry turnover and profits, as well as the gambling revenues for the government. In this article we will provide some key points of the study.
Market size in terms of legal and illegal gambling in Germany
The gross revenue of the gambling industry, which means revenue after deducting distributed winnings, totalled €13.4 billion last year.
It is distributed as follows: the total cash from public lotteries collected €5.3 billion, the slot machine sector – €4.8 billion, and sports betting €1.4 billion, which is expected to grow significantly after the legalisation in 2020. Online poker also accounts for a small share of the total revenue – €0.9 billion.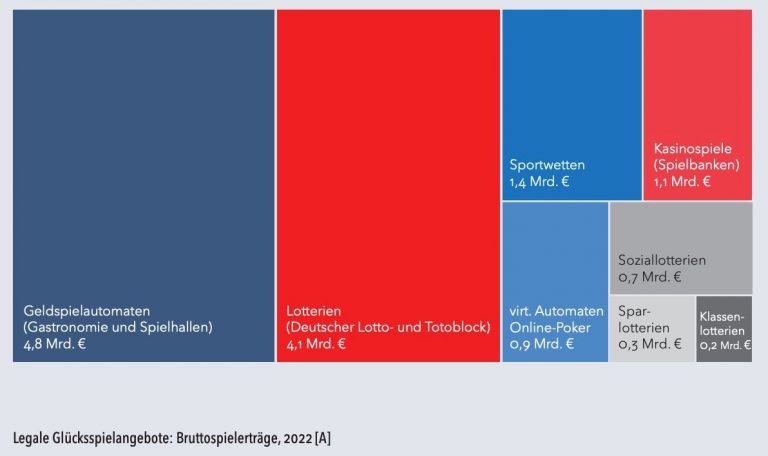 Slot machines in restaurants and gambling halls, as well as public lotteries from German Lotto and Totoblock (DTLB), represented the largest share of permitted gambling in Germany for many years. 91% of the market share of public lotteries comes from sales at fixed points of sale and online sales. The remaining 9% comes from the mediation of commercial games on the Internet. 
The illegal gambling industry in Germany mainly includes illegal casino games, virtual slot machine games, and sports betting. According to the Glücksspielatlas Deutschland 2023, the number of illegal games has been decreasing since 2017.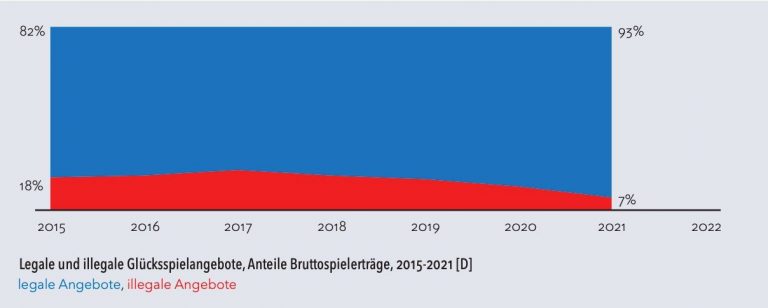 Looking at the chart below, it becomes clear that German players more and more prefer slot machines, while gradually abandoning the "big game" (like roulette, blackjack, etc.) – only 13% in 2022.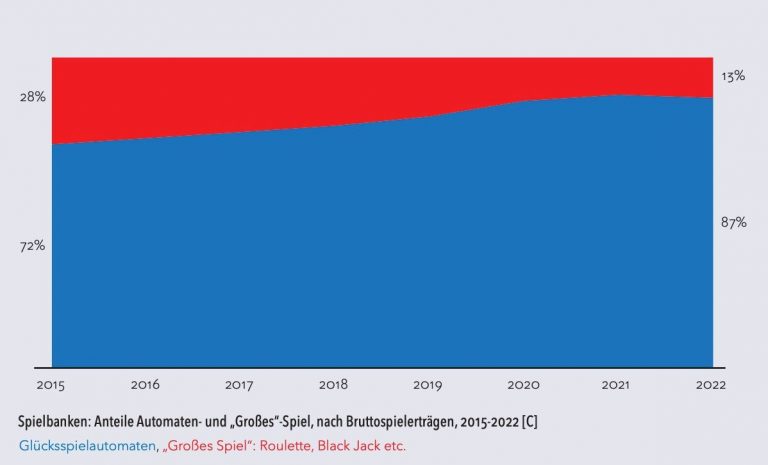 The gambling providers pay taxes depending on the gambling games they offer. This means that the government harvests several million euros annually from casino tax, lottery tax, sports gambling tax, entertainment tax, sales tax, totalisator tax, betting tax and other taxes. Depending on the land, there are certain reserves for parts of the revenue or for different beneficiaries, such as sports, culture, social and economic issues. According to the report, the state collected 5.2 billion euros in taxes from legal gambling last year.
This is how the shares are distributed by type of legal gambling.
As we can see, the largest share of revenues comes from public lotteries, followed by slot machines and sports betting, which was legalised in 2020. Please bear in mind that a large number of online gambling providers do not have any German license, so the state does not receive any profit from their business, although the operators offer their services in Germany.
Gambling providers have been the important advertising clients for private broadcasters for many years. TV is still the main advertising medium for gambling providers (68%), however, advertising has now moved beyond TV and into the online space through advertising on social media and other online channels. Streaming services such as Twich or Youtube broadcast videos where people participate in gambling or open a loot box. Sponsored streamers may have higher winning opportunities, which becomes an attractive factor among viewers. 
In addition, public announcements of the luck of individual players who have won a jackpot or hit the jackpot in a casino serve as free advertising for gambling providers. 
The involvement of influencers or renowned actors in advertising campaigns exerts a considerable influence on engagement of people in gambling activities. The endorsement of a contented and prosperous life by celebrities has become a significant concern, with multiple court cases already underway in the country challenging the legitimacy of such promotional campaigns.
It turned out that the online casino sector has been the sub-industry with the highest advertising spend for several years, although it was only legal in Schleswig-Holstein until the State Gambling Agreement came into force in 2021. 
Researchers estimate that over the past 4 years, spending on gambling advertising ranges from approximately €400 million to €600 million. For comparison, BIA Advisory Services forecasts that advertising spending in the US will reach approximately USD 1.8 billion by the end of 2023.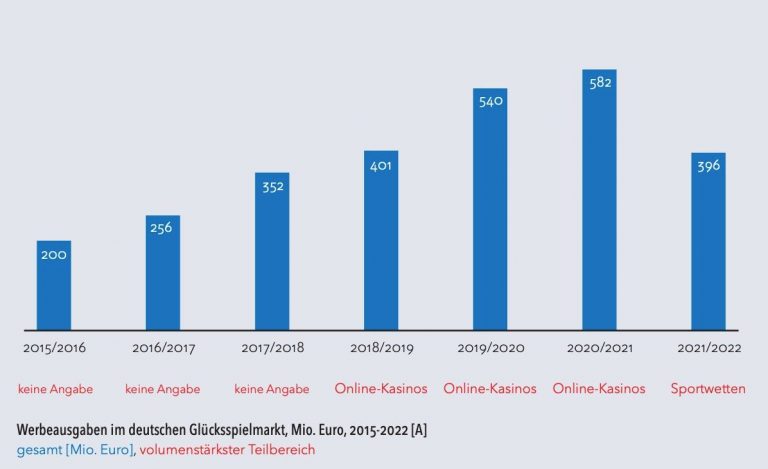 The authors of the study focus on sports betting advertising. In sports, sports betting providers, as well as lottery companies, act as generous sponsors of sporting events or sports clubs. In the 2022/2023 season, betting companies sponsored 17 out of 18 Bundesliga football teams. This is also consistent with the fact that sports betting advertising has become an important source of refinancing for sports reporting. 
The prevalence of betting advertising in live sporting events and partnerships between major betting companies and football organisations have been highlighted as potential contributing factors to the problem. 
According to Burkhard Blinert, every time a person searches for Bundesliga results on their smartphone, they are immediately confronted with offers from sports betting companies.
And especially when it comes to sports betting, stricter restrictions on advertising should be introduced as soon as possible. Sports betting simply needs to stop before, after and during sports coverage, even in the afternoon and early evening programmes.

Burkhard Blinert

According to the report, 30% of gamblers have placed bets in the last 12 months. In the US, according to the University of Massachusetts School of Public Health and Health Sciences, this figure is more than 70% of US residents participated in gambling in 2022.
Concerns about gambling addiction
Around 1.3 million people in Germany suffer from any form of gambling disorder. Another 3.3 million people have participated in risky gambling with early signs of addiction, the report says.  By the way, the Gambling Commission has recently published a new study that shows that 1.3 million adults in the UK suffer from this problem as well. 
Approximately one in thirteen gamblers experience health, financial or social problems because of going into slot machines, sports betting and other gambling. 
Often, these issues become so common that families break apart, and lives of people are severely affected.
The money spent by individuals with gambling addictions varies considerably based on the specific nature of their addiction. The study presents a graph of the growth of money stakes, which, according to the authors, can be used to recognise when a harmless leisure activity turns into a dangerous addiction. 
Players do not care to spend an average of 93 euros per month. If it is about an already risky gambler, the wasted cash will more than double to 206 euros. If the bets increase 3-4 times, which is approximately monthly bets of 603-769 euros, the player is assumed to have become addicted or as the one demonstrating a gambling disorder.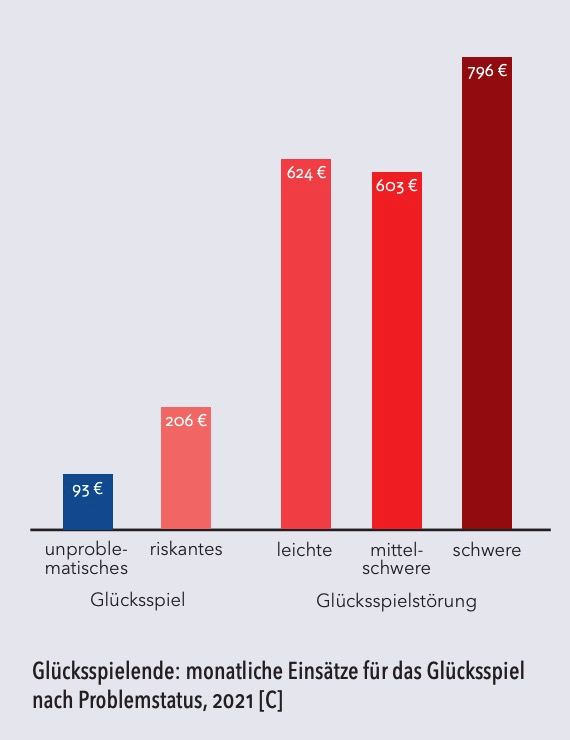 Concerns about gambling addiction
The online gambling industry is currently undergoing rapid growth, with industry experts projecting a substantial expansion over the next 5-8 years. The market is expected to continue its growth trajectory and will reach $162.69 billion by 2030, with a Compound Annual Growth Rate (CAGR) of 10.66%.
Considering the findings, Germany has all chances to consider new initiatives aimed at player protection, including stricter regulations on gambling advertising. 
A complete ban on advertising will have a significant impact on the German gambling industry. It is because companies will no longer be able to promote their services via the traditional advertising channels. This will most likely entail a decrease in revenues for operators and, consequently, in taxes paid to the government. However, a positive impact would be that operators would be forced to look for alternative ways to present information about gambling, focusing on providing a safe environment for players. On the other hand, this trend could have adverse consequences, as players might increasingly resort to unlicensed or offshore operators in their pursuit of gambling, especially when the TV factor no longer serves as a clear indicator of the legality of such activities. In summary, the German gambling scene is at a crucial crossroads, navigating the delicate balance between financial gains and the pressing need to tackle escalating addiction concerns. Anticipated regulatory changes are poised to reshape the industry, necessitating adaptation and the adoption of responsible practices.